Tradition since 125 years
SEITZ is a German Chemical Company of worldwide reputation within the field of Professional Textile Cleaning, Care and Hygienic Applications. The manufacturing program includes all products required for modern Textile Care. Our customers are Drycleaners and Launderers worldwide.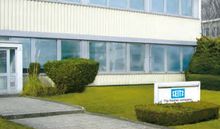 For more than 125 years, we have been developing products, procedures and techniques for national and international use in our own laboratory and at field sites of practical application.
Every year, a turn-over proportion, unusually higher than average for this market segment, is invested for product optimization with regard to local requirements and ecological aspects and for finding new ways and concepts to help our customers to improve their competitiveness.
In our company, practically everything is done under "one roof": research and development in laboratory and technical department, manufacturing, warehousing, packing and shipping as well as administration and distribution.
Our chemists and engineers do not only develop new formulations and constantly improve the "home-made recepes", they are also committed to keep their professional knowledge at the latest stage of technology and environmental requirements by attending national and international fori and conferences.
Our fully trained and qualified technicians in the Company solve most complicated technical and chemical customer problems and questions all around the clock by availing themselves of the most modern communication media and
systems. A large number of external technical sales representatives are directly counselling and servicing our customers in Germany.
Also on an international scale, SEITZ expert staff members are at the disposal of our distributors and important customers and are constantly engaged in solving at site any existent problems and implementing new procedures and products.
Business in the United States and Canada is directed by the SEITZ affiliate company, SEITZ, Inc., founded in Tampa for this purpose. Distributors are found in another 68 countries of the world.
Our national and international customers are the reason of and key to our success!
Quality, service, availability, reliability and reputation –
these are our daily objectives!
Company management: Alexander Runge Alexander Seitz