130 years of SEITZ
In 1885, young Heinrich Seitz found himself working with the recently invented aniline dyes as an employee of the Bayer Farbwerken in Elberfeld, Germany. Although only twenty-seven years of age, he recognised their huge potential for the textile finishing industry and, with the courage of his conviction and a keen eye for a business opportunity, he left the security of a large organisation to found his own company.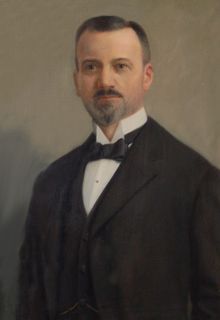 His "Aniline Dyes Factory Shop" opened in the Gutleutstrasse in Frankfurt grew rapidly as dyers discovered the benefits of the new synthetic dyes compared with the more traditional pigments. He was soon selling a whole range of sundries to professional textile dyers. Two years later, Fritz Seitz, his younger brother joined the company.
Further developments and constant improvements were made in the field of the Aniline Dyes and by the end of the century, the "Aniline Dyes Factory Shop was exporting their products to other European countries. "We had a fistful of luck" Heinrich once wrote: "We were always the first to bring our customers the latest developments." When Fritz died in 1905, Heinrich's eldest son Hermann joined the company.
Business expanded more and more: 1906 they opened their first branch office in Berlin and in 1910 they were able to move to their own premises in Frankfurt Sachsenhausen. When the founder died in 1922 at the age of 63, the management was taken over by his widow. Her youngest son, Dr. Alexander Seitz, a qualified chemist – joined the family business and became co-owner in 1928.
By now, SEITZ products had built up an international reputation for their dye formulations which were specifically adapted to the requirements of garment finishers. Due to the increasing number of clients all over the world and the fabulous business development, the firm acquired new factory grounds in 1940 in Frankfurt Niederrad. However, the war impeded the construction of a large factory project. In 1944, works and stocks were completely destroyed by an air raid but somehow the business survived and over a hard and toilsome five years period, the factory was laboriously rebuilt.
The post-war boom brought with it an enormous demand for re-colouring and dying textiles and thus a growing business for the SEITZ company. It was due to this boom that they were forced once again to enlarge their premises. When Hermann Seitz died in 1958 his position was replaced by his nephew Berthold Runge. Three years later, Walter Seitz, a professional textile engineer joined the company to allow his father Dr. Alexander Seitz to slowly retire.
During the Sixties and Seventies, a decreasing demand in dyes and an increasing demand in the "drycleaning services" required a quick reaction on the changing market. Due to intensive research work in their own laboratories, SEITZ was flexible enough to react quickly and establish a range of high quality drycleaning chemicals along with specialist cleaning products for leathers and carpets. Again, SEITZ had built up international reputation in this specialist field quite quickly and the constantly growing demand forced to move finally once more. A perfect place to set up a factory with enhanced capacities for research, manufacturing and operations was found in 1974 at Kriftel, a small village close to Frankfurt and close to the airport, where the company is still located by today.
Alexander Runge succeeded Berthold Runge as Managing Director, when his father retired in 1989. Alexander Seitz, the son of Walter Seitz, joined the company in 1993 as Marketing Manager and became Managing Director in 1996. He reorganised all Marketing & Communication activities and was responsible for the expansion into new foreign markets like China, Russia. In 1998, he opened the first international branch office in Tampa, Florida to better concentrate on US- and Canada business. Localised support for drycleaners and launderers is provided through authorised distributors in 68 countries around the world.
Today, SEITZ has reached a brand popularity and a worldwide reputation in the Laundry and Textile Care Trade. Environmental protection, safety and quality have become more and more important factors during the past years with regard to raw materials and finished products as well as manufacturing processes and packing. The new SEITZ generation leads their way forward: Our commitment is to make products and service the best it can be for our clients.